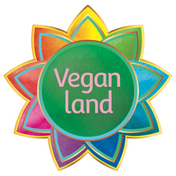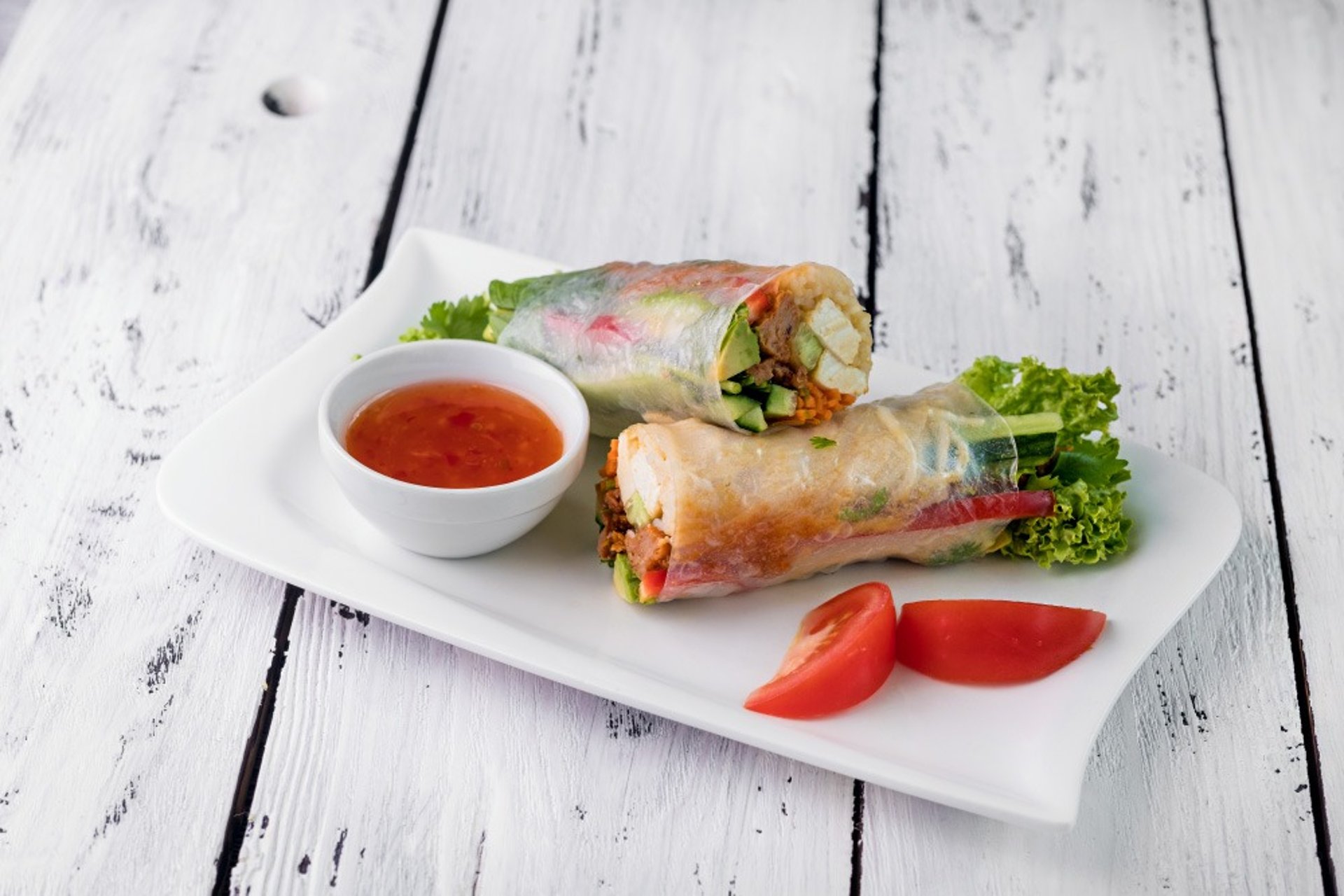 Vietnamese cuisine has a rich and diverse tradition that has inspired a new wave of vegan cuisine. From delicious pho to fresh spring rolls, there is no shortage of plant-based options that capture the vibrant flavours and textures of this popular cuisine. Many foodies and health food lovers have therefore turned to vegan dishes inspired by Vietnamese cuisine to discover new flavours and experiment with plant-based ingredients. Whether you're a seasoned vegan or just starting out, cooking vegan Vietnamese food is an exciting and delicious way to expand your culinary horizons. So why not dig out the kitchen utensils and start preparing a vegan Vietnamese feast today? With so many tempting options, you're sure to enjoy every bite!
Order today through Foodora and get FREE DELIVERY!
Here you can see the full menu. Click on the picture!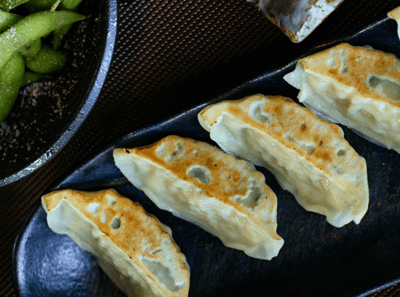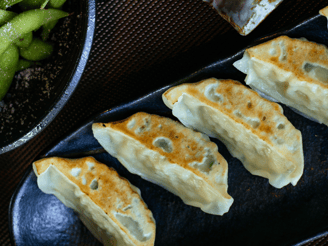 These vegan dumplings are a simple but tasty treat to share with friends and family. Whether you're looking for a quick snack or a small dish to eat, these dumplings are the perfect choice. They are made without animal products, making them suitable for those following a vegan diet or for anyone looking to reduce their meat intake. Enjoy them steamed or pan-fried, with your favourite sauce or on their own. They are easy to prepare and can be adapted to your taste preferences. You can serve them as an appetizer or make them the main course of a meal. These vegan dumplings will impress and satisfy even the pickiest eaters.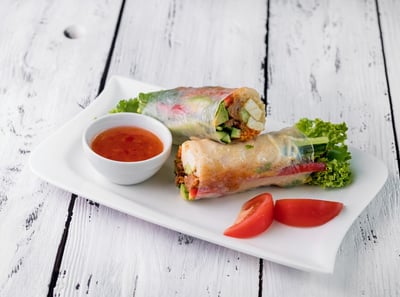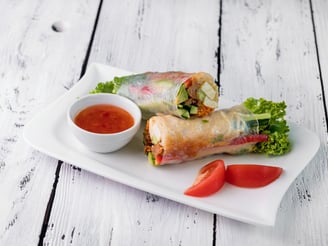 Vietnamese cuisine offers delicious fresh rolls that are popular with locals and visitors alike. These rolls are usually made from rice paper and filled with various ingredients such as vermicelli noodles, fresh herbs, lettuce and sometimes meat or seafood. In the vegan version, however, the rolls are filled with various vegetables and tofu, making them a healthy and tasty alternative. Thanks to the vegan option, even vegans can now enjoy these delicious treats. Whether you're a fan of the traditional style or want to try something new, vegan Vietnamese rolls are a must-try.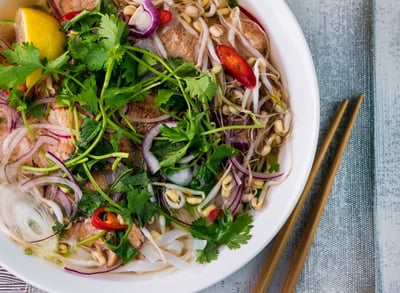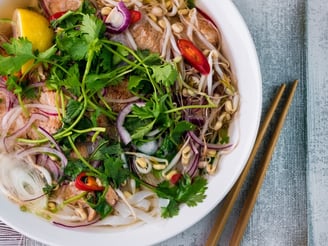 Traditional Vietnamese Pho soup is a delicious and healthy dish full of vegetables, herbs, coriander and an unforgettable vegan style. This soup is an excellent source of vitamins and minerals and a great way to get your daily dose of vegetables. The herbs and coriander give it a unique, refreshing and savoury flavour. This dish is ideal for anyone who wants to enjoy a delicious and healthy dish that is suitable for vegans. Whether you're a fan of Vietnamese cuisine or looking for a new recipe to try, this traditional Pho soup is sure to impress. So why not try it today and see how it tastes?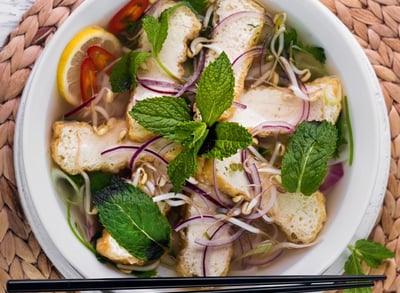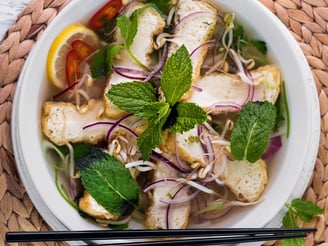 Vietnamese Pho is a traditional dish known for its aromatic and tasty herbs. The word usually consists of noodles, broth and metofu can The herbs used in the broth give the dish a refreshing and soothing taste. be used for a vegetarian variation instead of a veggie variation. Tofu adds a hearty texture to the dish, making it a healthier choice. Vietnamese Pho is an ideal dish for those looking for a delicious, nutritious. Whether you are a vegetarian or just looking for something new, Vietnamese Pho with tofu is an excellent choice that will leave you satisfied and happy.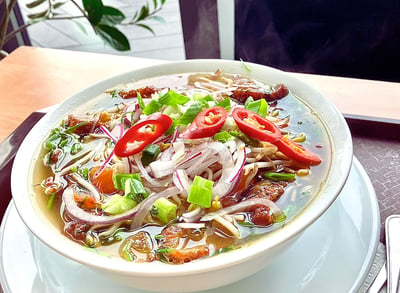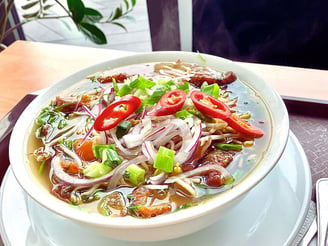 Vietnam is famous for its delicious street food and one of the most popular is vegan fish noodles. This dish is prepared with homemade vegan imitation fish that is simply divine. The noodles are perfectly cooked and then topped with vegan fish (from seitan), giving them a rich and flavorful taste. What makes this dish even more special is that it's made in a charming vegan style, meaning it's not only delicious but also cruelty-free. Whether you are vegan or not, this dish is sure to satisfy your taste buds. So if you're in Vietnam, be sure to try this amazing street food and enjoy its flavours and textures.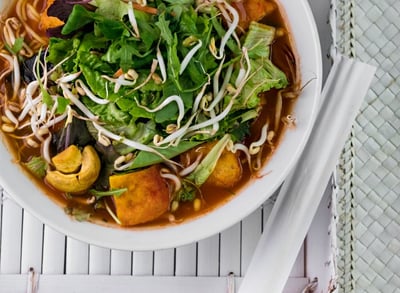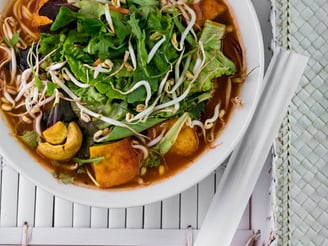 The tomato soup served at this restaurant is full of flavor and has a tangy, sour taste that will awaken your taste buds. The soup is accompanied by a variety of healthy side dishes, including a generous amount of fresh salads, protein-rich tofu, spicy mushrooms, and tangy pickles. Each ingredient in this dish is carefully selected to provide a well-balanced and filling meal that is both nutritious and delicious. Whether you're a vegetarian or just looking for a healthy option, this soup is sure to impress. So why not treat yourself to a bowl today and see why it has become one of our favorite dishes?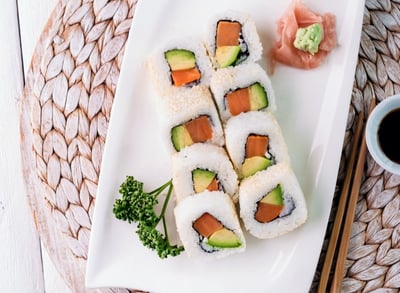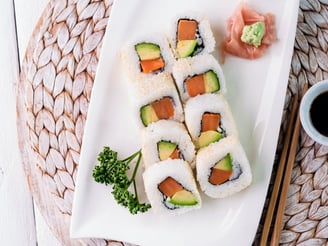 This fitness sushi is a tasty and healthy option for those looking for a nutrient-packed meal. The combination of avocado and roasted sweet potatoes delivers a satisfying taste as well as a variety of health benefits. Avocados are an excellent source of healthy fats, fiber, vitamins and minerals such as C, K and potassium. Roasted sweet potatoes, on the other hand, are high in fibre, vitamin A and antioxidants. These ingredients combine to create a filling and nutritious sushi roll that will fill you up and give you energy. Whether you're a sushi lover or just looking for a healthy food option, this fitness sushi is worth a try.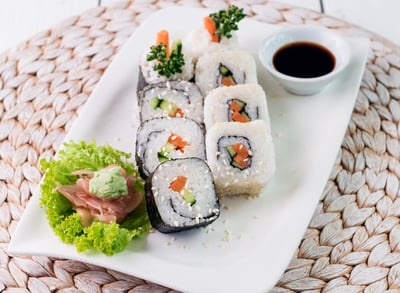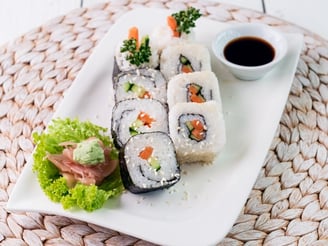 Pokud hledáte chutnou a zdravou svačinu, nemůžete udělat chybu s veganským sushi ze staré školy s čerstvou okurkou a mrkví. Tato lahodná pochoutka se nejen snadno konzumuje, ale je také lehce stravitelná, takže je ideální volbou pro ty, kteří hledají lehké a osvěžující jídlo. Ať už jste vegan, nebo se jen chcete stravovat zdravěji, toto sushi je skvělou volbou, která uspokojí vaše chutě. Tak proč ho nevyzkoušet ještě dnes a nepoznat lahodnou chuť tohoto klasického pokrmu na vlastní kůži?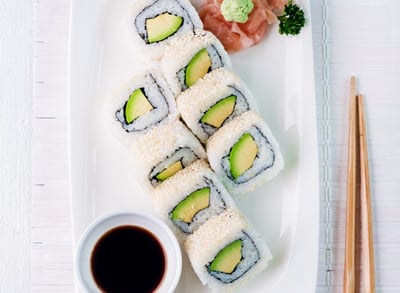 Avokádo je bezpochyby jedním z nejvýživnějších plodů na světě a je kdykoli k dispozici. Kromě toho, že se jedná o zdravou potravinu, je také jednou z nejoblíbenějších zálivek na sushi na trhu. Díky své krémové struktuře a máslové chuti je dokonalým doplňkem každé sushi rolky, a proto je mezi milovníky sushi oblíbený. Avokádo je bohaté na zdraví prospěšné mononenasycené tuky, vlákninu a různé vitaminy a minerály, takže je skvělým doplňkem každého jídelníčku, který má optimální zdravotní účinky. Ať už si ho vychutnáte v sushi rolce, nebo z něj připravíte guacamole, avokádo je chutným a výživným doplňkem každého jídla.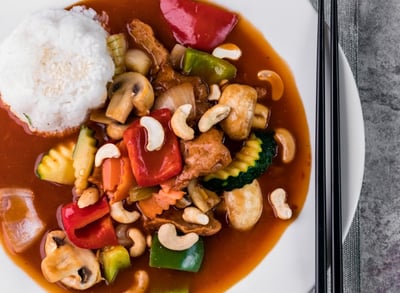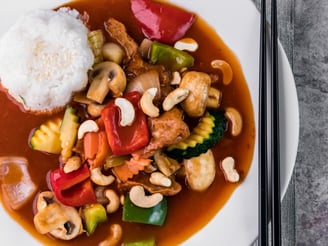 Our favourite dish is one that we have treasured since the beginning of our culinary journey. We learned about this dish from a master chef of Chinese descent who has been cooking vegan meals for more than five decades. This dish is a masterpiece and has become a staple in our meal plans. The combination of flavors and textures is perfect and it's a dish we enjoy when we want something comforting and to impress our guests. We are grateful for the opportunity to learn from such an experienced chef and to be able to share this dish with others.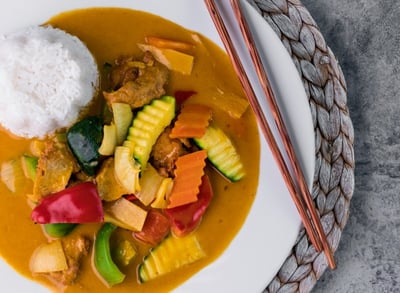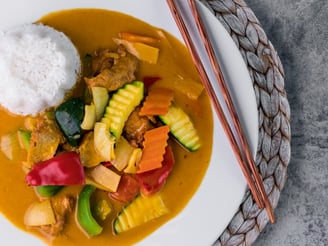 The popular curry is undoubtedly one of our favourite dishes. It has been a hit with many of our customers since the beginning of our vegan journey. No wonder - this tasty dish is packed with flavour and healthy ingredients. Whether you're looking for a hearty meal to kick-start your day or a comforting dinner to unwind after a long day, the popular curry is always a great choice. The combination of fresh vegetables, fragrant spices and creamy coconut milk makes for a dish that's sure to satisfy. So if you're looking for a tasty and filling meal that's sure to please your taste buds, try our popular curry!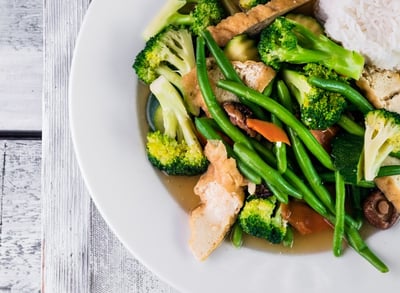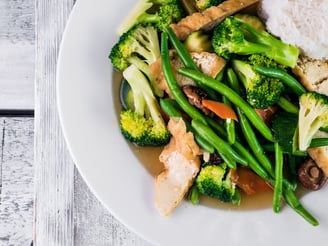 In Asia, they traditionally eat vegan by preparing dishes full of fried vegetables, tofu, mushrooms and rice. This vegan dish is not only healthy, but also delicious as it combines different textures and flavours. Tofu is a good source of protein, while mushrooms give it an earthy flavour and chewy texture. Vegetables such as carrots, broccoli and peppers add colour and nutrients to the dish. Frying the ingredients in a wok or pan creates a savoury flavour that is even more delicious. This dish is a perfect example of how vegan cooking can be rich and flavorful without sacrificing taste or nutritional value.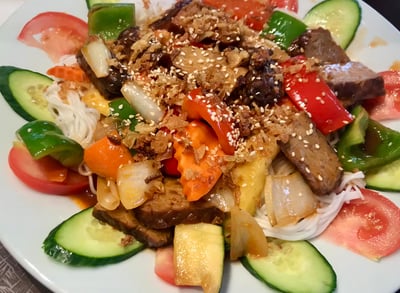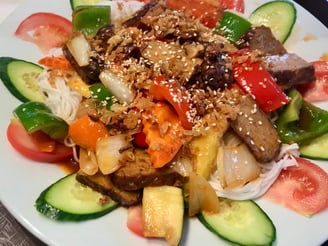 This dish is a tasty fried tempeh with a delicious BBQ flavour, served with rice noodles and fresh vegetables. Tempeh is a popular vegetable protein with a lovely nutty and earthy flavour. When prepared in the deep fryer, it is crispy on the outside and crunchy on the inside, making it the perfect addition to any dish. The BBQ flavor in this dish adds a smoky sweetness that pairs perfectly with the spicy tempeh. The rice noodles and vegetables create a light and flavorful contrast to the hearty tempeh. This dish is tasty and nutritious, making it a great choice for those who want to eat healthy without giving up flavor.
Introducing our vegan cheeseburger! 🍔 A popular sandwich with juicy vegetable patty, melted vegan cheese and fresh toppings. Dive into this delicious slice of vegan heaven. Come taste the crunch!
Introducing our vegan cheeseburger! 🍔 A popular sandwich with juicy vegetable patty, melted vegan cheese and fresh toppings. Dive into this delicious slice of vegan heaven. Come taste the crunch!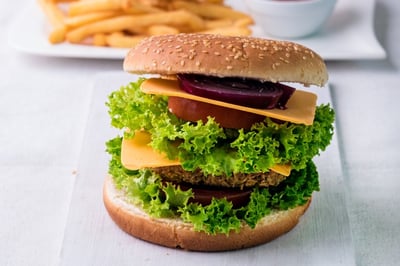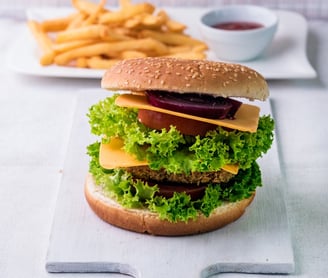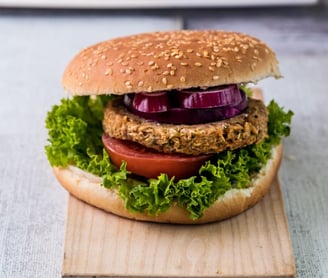 Treat yourself to our delicious cakes! 🎂 Each piece is made with love and the best vegan ingredients and promises moments of pure bliss. From rich chocolate to savoury fruit-flavoured treats, our range will satisfy every sweet tooth. And what's the best part? You can pre-order them to make sure your favourite treat is ready for your special occasion or just because. Dive into the sweetness and celebrate life's moments with Veganland cakes. Order in advance and the celebrations can begin! 🌱🍰🥳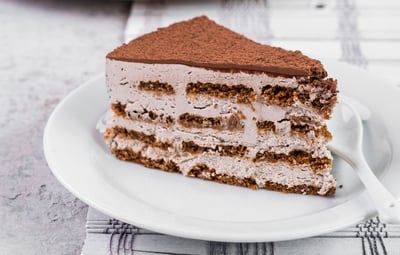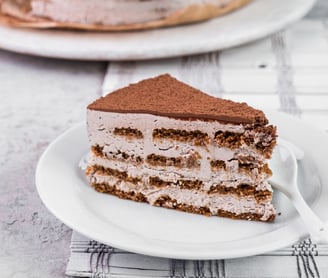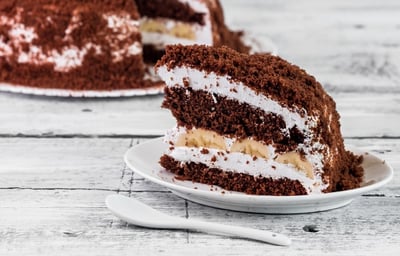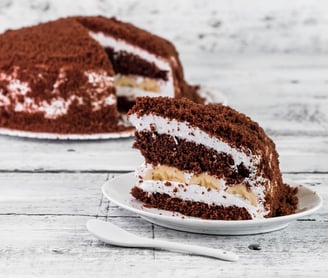 Some dishes may contain nuts, and other allergens.